Skip to content
Care instructions for your Knitido toe socks
We want you to enjoy wearing your Knitido toe socks as much as possible and for as long as possible, because our products involve the work of many busy hands and attentive eyes. Therefore, here are some useful tips on how to extend the life of your Knitido toe socks.
Follow the care instructions
For over 30 years, Knitido has been producing toe socks made of different materials. Based on this experience, we set the care instructions for our products. Give us your trust, your socks will love you for it.
If you no longer have the sock labels with the care instructions, that is no problem. Because the respective care instructions are also stored on the corresponding product pages.
By the way: Our toe socks do not shrink when washed. We have already done that for you and shrunk the socks to the right size during production.
Pay attention to the length of your toenails
People who wear toe socks tend to pay more attention to their feet. Even just getting dressed in the morning requires a certain level of attention that we otherwise rarely give our feet.
Take a moment and turn your attention to your feet and toenails. If they are short and even, you can confidently put on your toe socks and enjoy. However, if you find that your toenails have nooks and crannies, then we recommend you trim them. Here you will find instructions on how to cut your nails properly. Because, too long nails act like a knife in shoes and cut into the stretched sock fabric. They are the number one cause of holes in socks.
Never cut threads from your toe socks
When making Knitido toe socks, hiding the loose threads is one of the most laborious steps. Threads are inevitably created during manufacturing and usually do not interfere when they are loose in the sock. Every single thread of a toe sock is conveyed inside by hand. Please never cut these threads, otherwise the toe sock will unravel.
If you turn the socks inside out, you will find the loose threads between each toe box. We take care during production that the threads are cut, do not get tangled and do not form loops that pull the toe chambers together.
If a thread sticks out between the toe chambers after washing, try to carefully bring the thread back inside with a thin crochet hook. To do this, carefully pierce the fabric of the toe sock from the inside, grab the thread with the hook and carefully pull it inwards.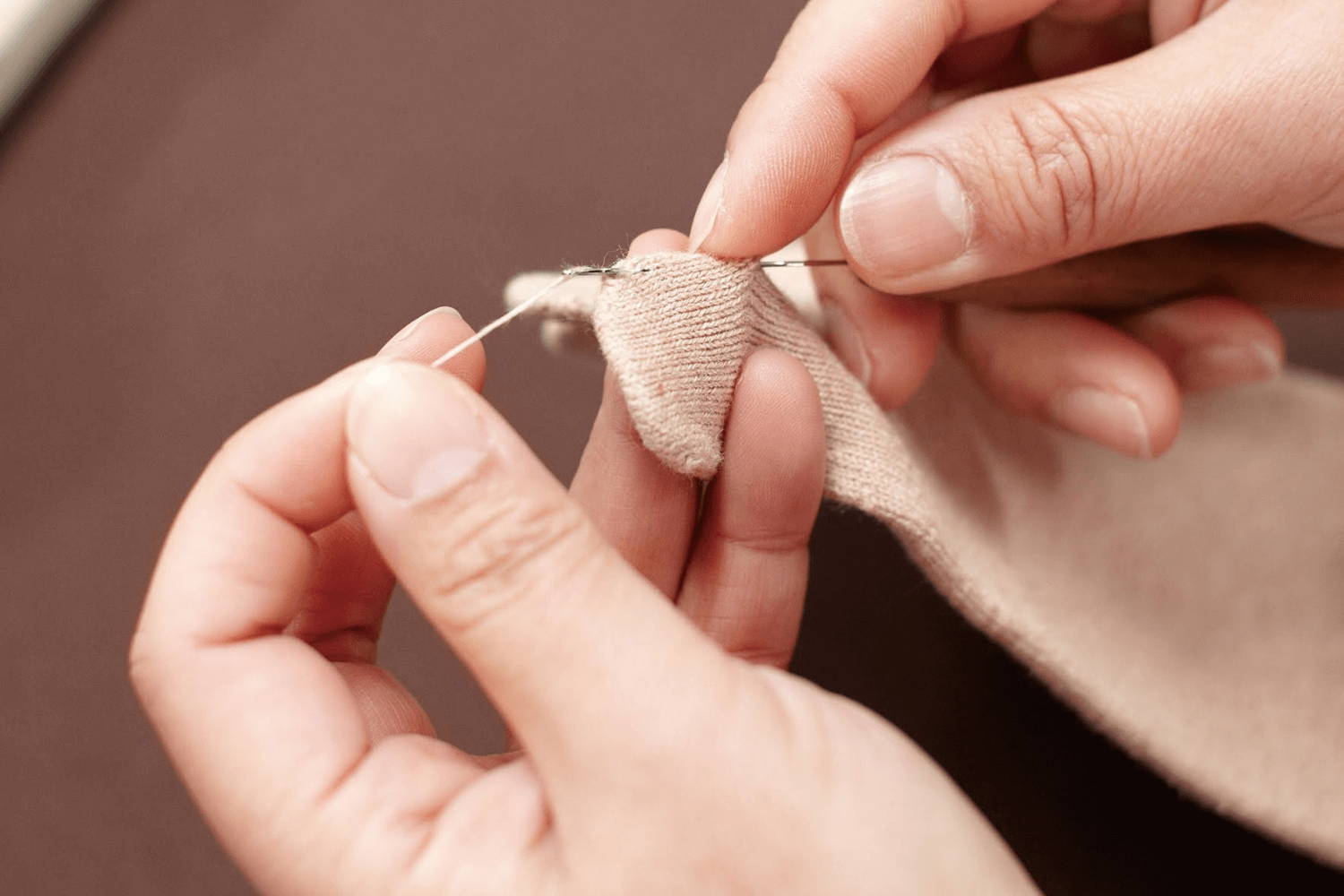 Put on your toe socks carefully
Toe socks are subjected to greater physical stress than "normal" bag socks. We advise you to strip the toe socks first from the heel and then from the individual toes when taking them off. This protects the material. You will notice if a nail sticks to the fabric and can react.
Get the toe pockets out of your sock before you wash it
The toe pockets are the part of your toe socks that absorb foot sweat when worn. Therefore, it is important to clean them thoroughly when washing. And the best way to do this is to turn the toe pockets inside out beforehand. To do this, simply run your fingers inside the sock.
Do not iron your toe socks
Again and again people ask us how they can iron their socks. However, as the sock fabric is very sensitive to heat, we strongly advise against it. If you still want to iron your socks, please do so on the lowest setting and place a cotton cloth between the iron and the toe sock so as not to damage the structure of the delicate fabric.
Wash your toe socks in laundry bags
Every item of laundry loses lint in the washing machine as it floats through the water during the wash cycle. When this water is rinsed through the toe socks, the lint tends to get caught at the bottlenecks, especially the toe pockets.
Our recommendation is therefore to wash your toe socks in the laundry bag.
Follow our care instructions and increase the life of your Knitido toe socks. We wish you much pleasure with it. If you have any further questions or feedback about our products, please feel free to contact us. We are at your disposal with pleasure.
Your Knitido-Team
Sunday,Monday,Tuesday,Wednesday,Thursday,Friday,Saturday
January,February,March,April,May,June,July,August,September,October,November,December
Not enough items available. Only [max] left.
Add to Wish List
Search wish list
Remove from wish list